MISSISSIPPI JOHN HURT 2021 ONLINE CONCERT SERIES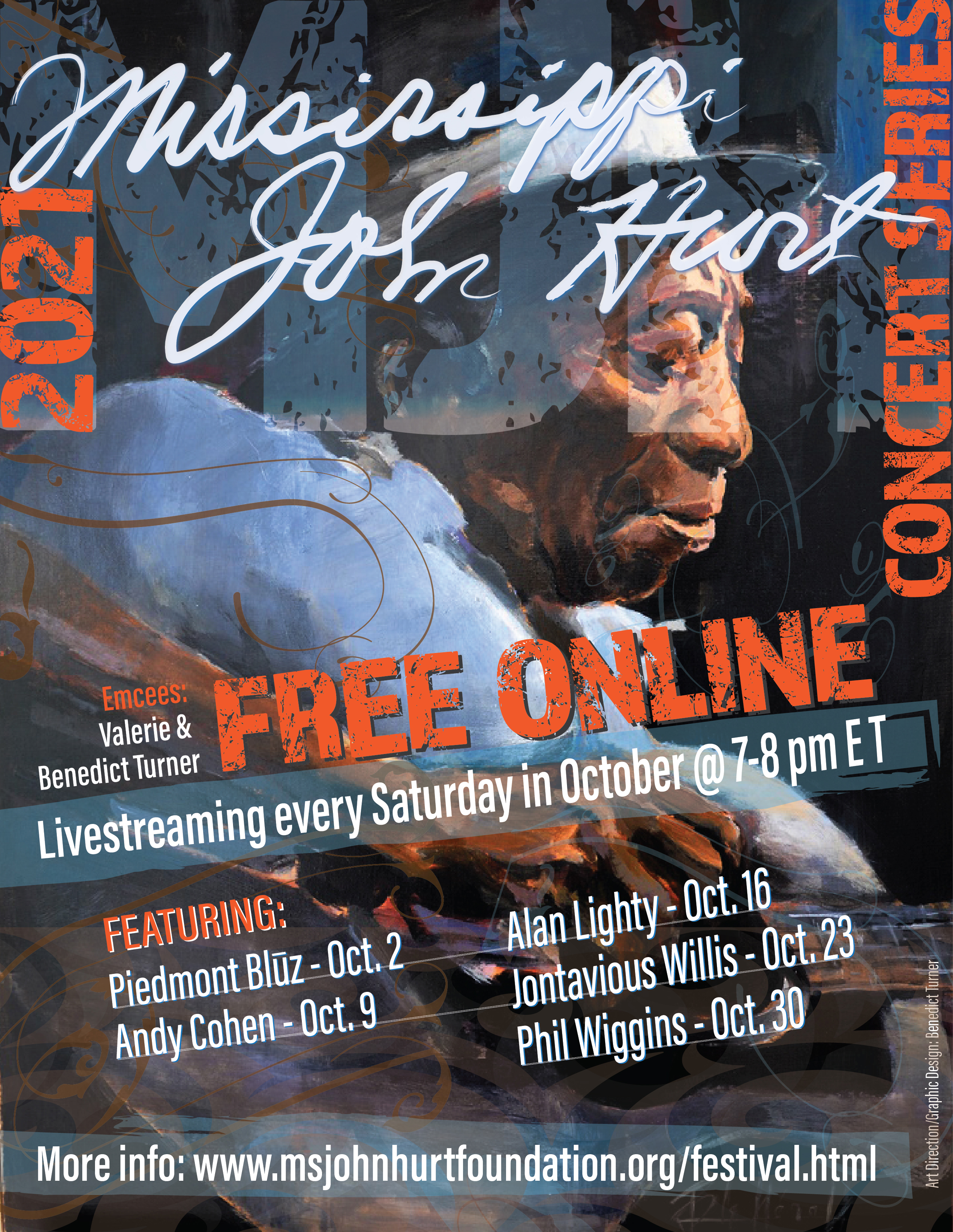 Welcome to the Mississippi John Hurt 2021 Online Concert Series! In lieu of our traditional in-person Homecoming Festival, this year the Foundation is excited to host a series of concerts featuring many Artists that we know you will love.
A different Artist will livestream on the
Foundation's Facebook page
each Saturday during the month of October, focusing on the music of Mississippi John Hurt and his impact on their music journey (see lineup below).
The Foundation looks forward to this celebration of the legacy of Mississippi John Hurt and we hope that you will join us. Use this link each Saturday in October to view that week's livesteam Artist on Facebook at 7 pm ET:
Watch Concert
Also, please give generously to the Mississippi John Hurt Foundation through the
PayPal Giving Fund
or through
PayPal.Me/MSJohnHurtFoundation
. If you are a resident of the United States, donations are typically 100% tax-deductible - and donations of $500 or more can be made from 401K accounts without any tax consequences. The Foundation thanks you for your kindness and for taking this opportunity to personally contribute to the legacy of Mississippi John Hurt.
LINEUP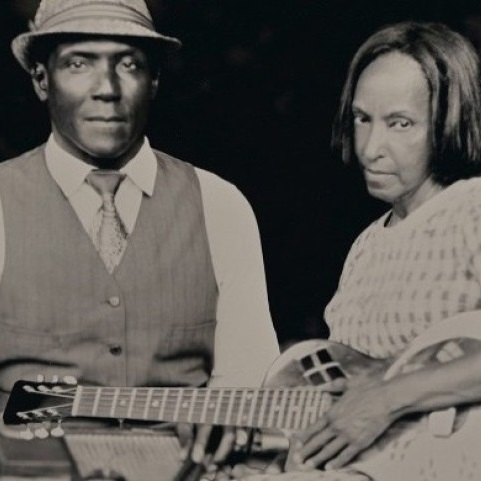 October 2nd, Piedmont Blūz Acoustic Duo
- This acoustic, husband/wife duo is comprised of Valerie and Benedict Turner. They are ambassadors of Country Blues music and the Piedmont style of fingerpicking. A Piedmont Blūz concert isn't just music – it's an experience as they transport you back to the 1920s and 1930s, the hey-day of acoustic Country Blues music. As 2018 inductees into the New York Blues Hall of Fame, these tradition bearers feel that "there are stories to tell, people to remember, and things that must be said" so, in addition to tickling your ears with delightful music, they weave a bit of history into the presentation of each piece. (
piedmontbluz.com
)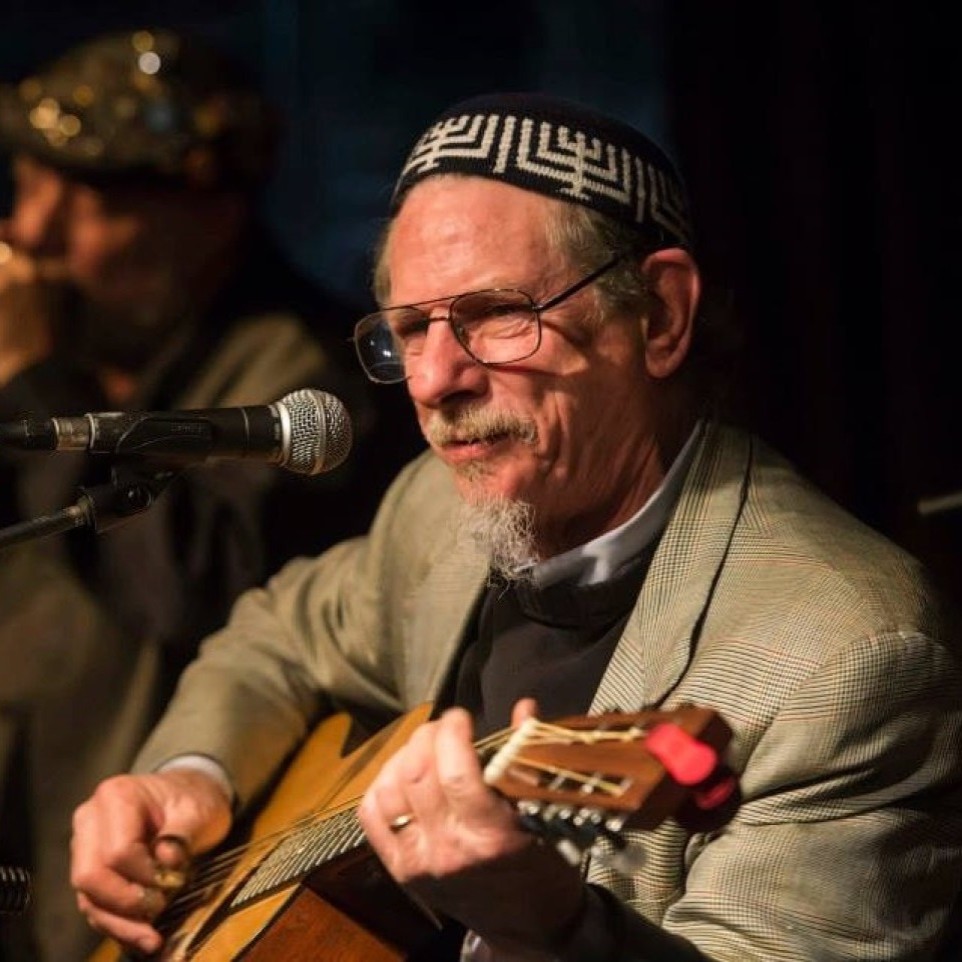 October 9th, Andy Cohen
- Andy Cohen grew up in a house with a piano and a lot of Dixieland Jazz records, amplified after a while by a cornet that his dad got him. At about fifteen, he got bitten by the Folk Music bug, and soon got to hear records by Big Bill Broonzy and the Jim Kweskin Jug Band, both of which reminded him of the music he grew up listening to. At sixteen, he saw Reverend Gary Davis, and his course was set. He knew he had it in him to follow, study, perform and promote the music of the southeast quadrant, America's great musical fountainhead. These days, playing the old tunes is what Andy Cohen does best. (
andycohenmusic.com
)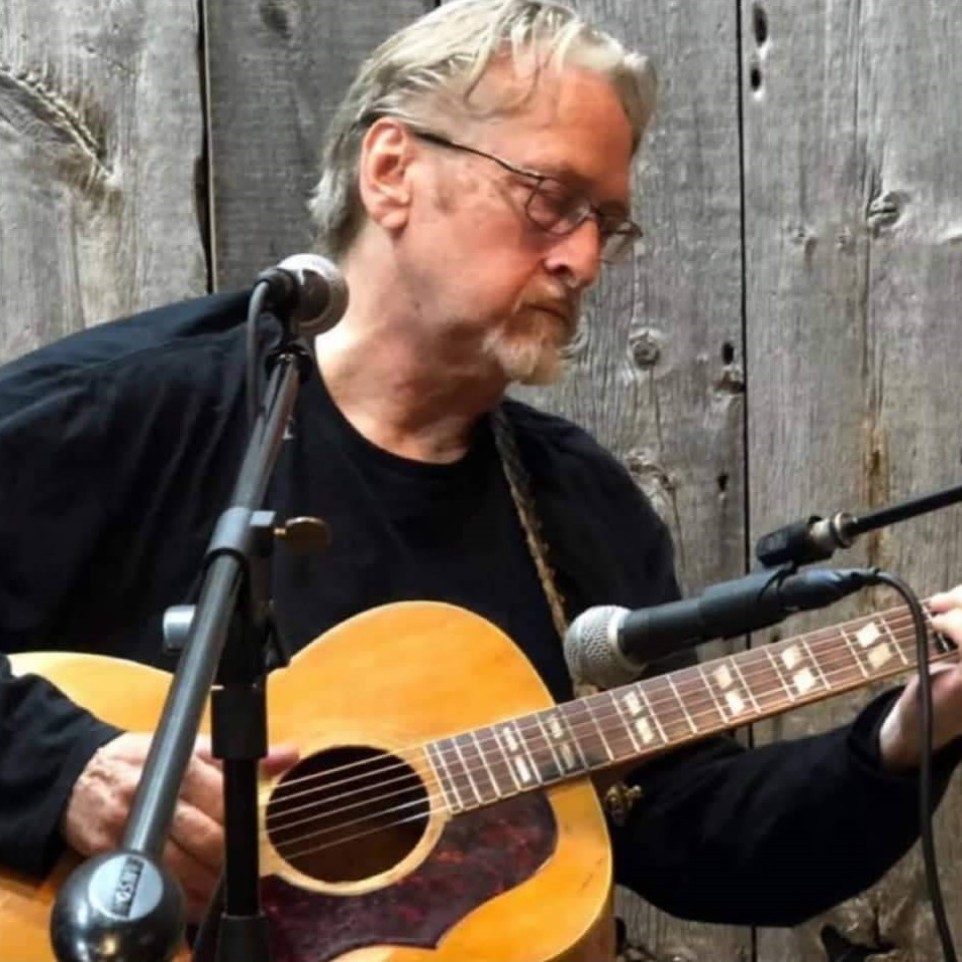 October 16th, Alan Lighty
- Alan Lighty is a multi-instrumentalist, songwriter with a Master's Degree in Music Composition from Yale University. Although classically trained, Lighty's first love has always been Americana music with a focus on Country Blues guitar. His two main influences were Mississippi John Hurt and Rev. Gary Davis. Lighty utilizes his formal training to help his students understand and break down the complexity of Country Blues guitar. His awards include grants from the Pennsylvania Council on the Arts and the Philadelphia College of the Performing Arts, and two MacDowell Colony Fellowships. (
Alan Lighty - Country Blues Guitar
)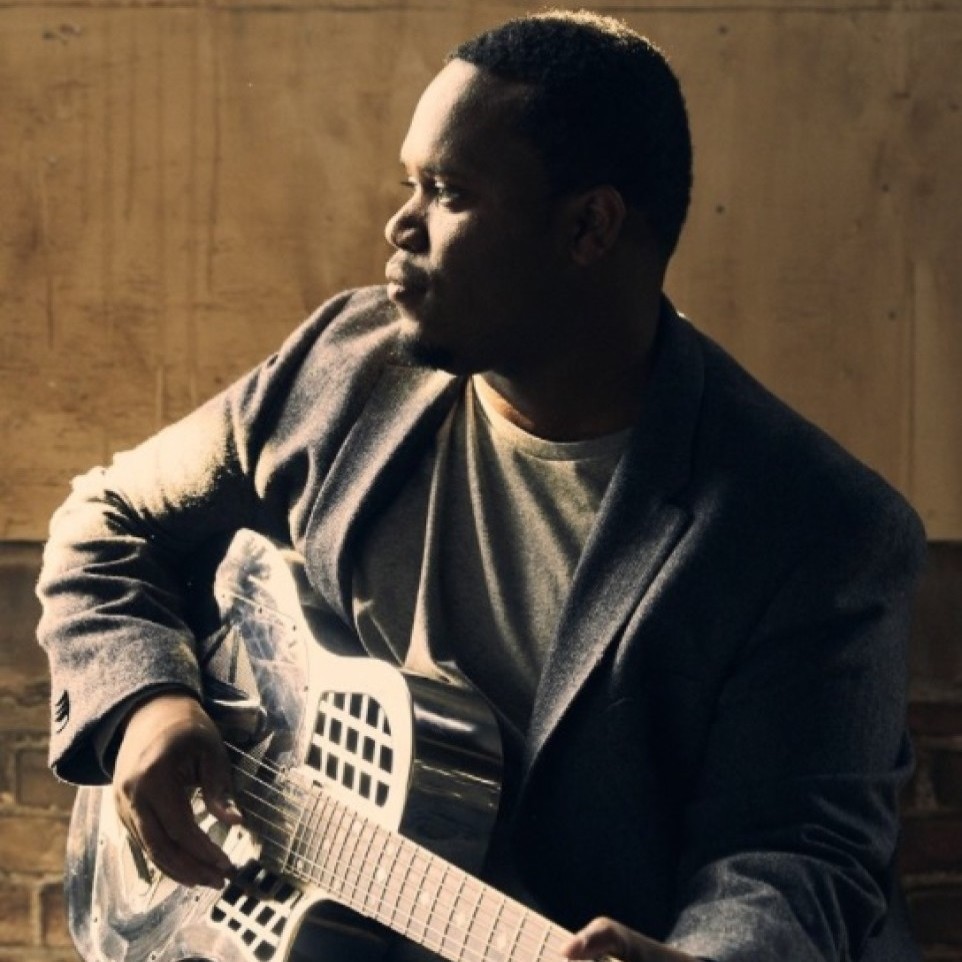 October 23rd, Jontavious Willis
- Every generation or so, a young bluesman bursts onto the scene and sends a jolt through the Blues community. Jontavious Willis may just have that effect on people. The 24-year-old, multi-instrumentalist was nominated for a Grammy in 2020 thanks to his latest album, "Spectacular Class." Through original lyrics written by Jontavious Willis himself, the gifted musician delivers a timeless album that features dynamic vocals and all types of blues: Delta, Piedmont, Texas, and Gospel. His stand-out fingerpicking, flat-picking, and slide prowess are also on display. (
jontaviouswillis.com
)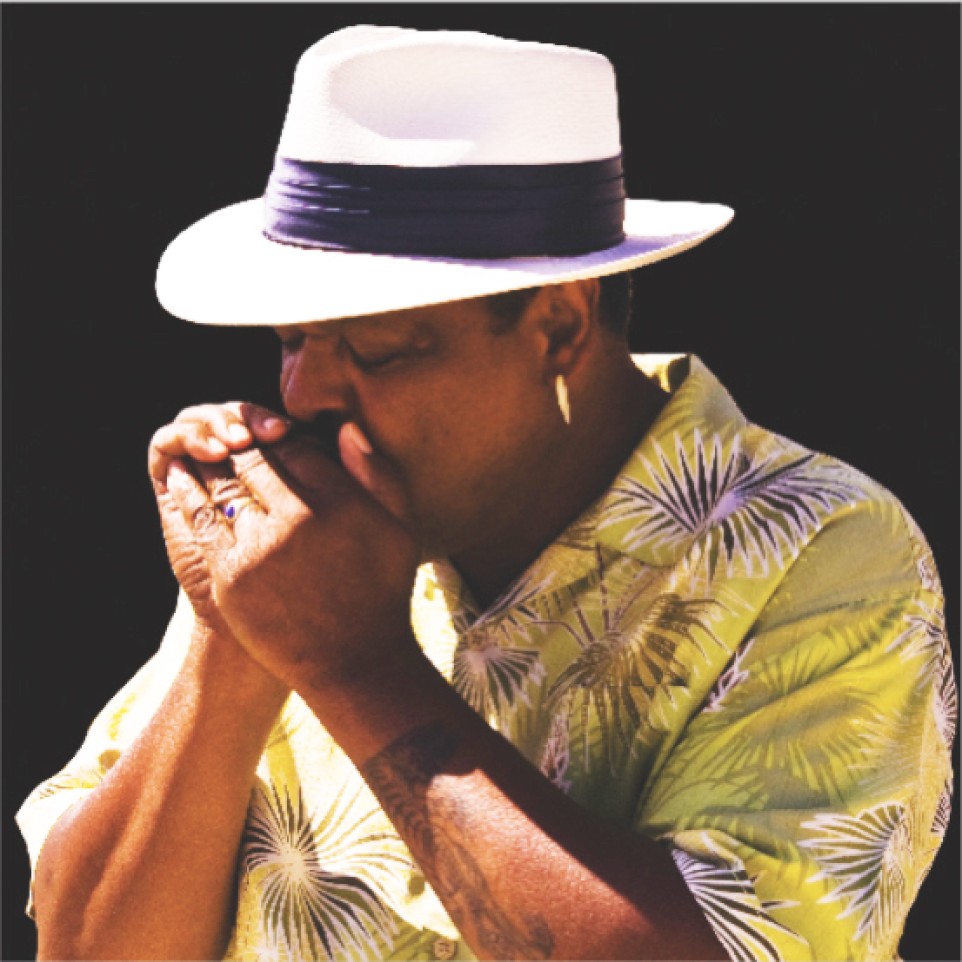 October 30th, Phil Wiggins
- The Washington, D.C. based Phil Wiggins is a versatile traditional harmonica player, continuing the Piedmont blues tradition, a gentle and melodic blues style of the mid-Atlantic region. He is a two-time winner of the prestigious W.C. Handy award. Regularly ranked among the world's top harmonica players in both Reader and Critics polls by Living Blues magazine, Wiggins is active as a musician, teacher, and music director. He was honored with both the National Endowment of the Arts 2017 National Heritage Fellowship and the 2021 Maryland Heritage Award - both the most prestigious awards for traditional arts. (
philwiggins.com
)